Most useful customer reviews
Matt
Glastonbury
iMusic Pillow Speaker
8 April 2017
Works a treat!
Speaker was present for wife who suffers from tinnitus. She has been sleeping better with speaker and app on phone. She is very happy with pillow speaker. Comfy pillow, can't feel speaker, but lead could be longer.
Douglas GR Urquhart
edinburgh
iPhone
30 March 2017
aswesome
very good great sound cheap
haf
lancashire
imusic pillow speaker
30 November 2016
great product
This pillow is very good, i connect mp3 player to it but have to keep volume low as u can hear it
82 Reviews
|
Write a review
---
Additional information
Listen to your music in comfort without disturbing your partner
The iMusic Pillow allows you to drift off in total comfort while being soothed by your favourite music without disturbing those around you thanks to the clever built-in technology that allows you to hear the music without it leaking loudly and upsetting your partner.
With a soft inner, the iMusic Pillow performs just like a top of the range pillow providing excellent comfort and support at all times.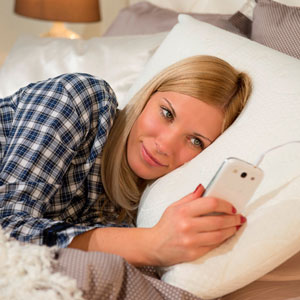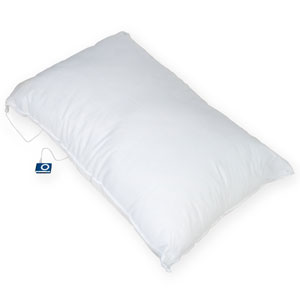 Superb music clarity
Not only does the iMusic Pillow provide fantastic comfort, but it also delivers exceptional music clarity and quality - so good that you'll think you have your earphones in.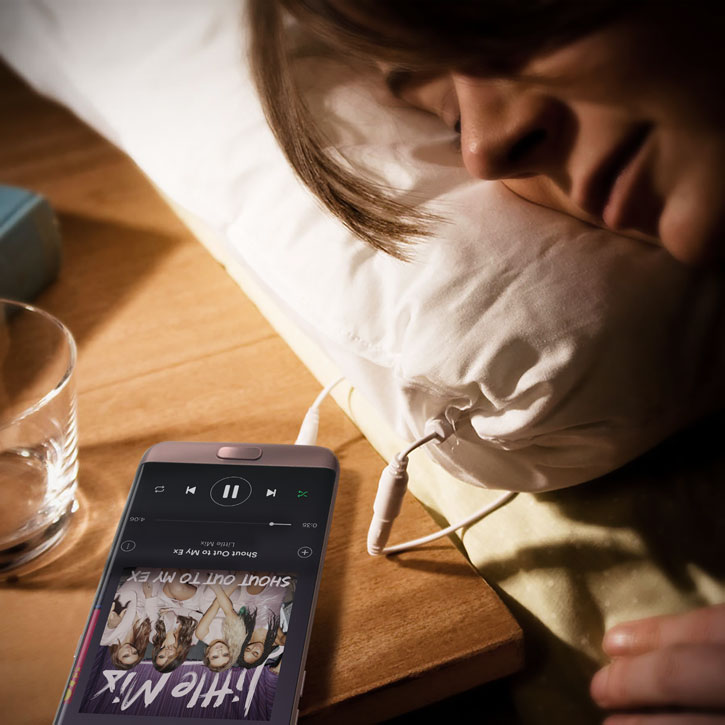 Perfect for listening to learning or self-help audio books
Always wanted to learn a new language, but never have the time to study? Well with the iMusic Pillow you can learn while you sleep, simply plug your smartphone or MP3 Player into the pillow with the appropriate audio book downloaded and let the knowledge sink in.
Also a fantastic way to listen to self-help audio books for those looking to give up smoking or improve self-confidence for example.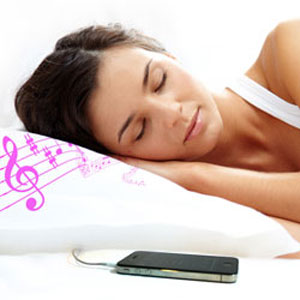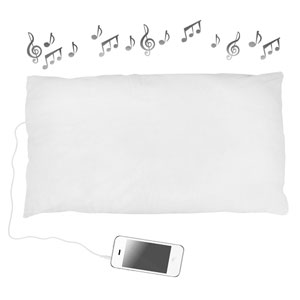 Great for long journeys
The iMusic Pillow provides a comfortable source of entertainment for those long journeys, be it on a plane, train or just in the car - the iMusic Pillow is the perfect companion for any lengthy journey.
Built-in 3.5mm connect for universal compatibility
All you need to get started is a music source such as your smartphone, tablet or MP3 player. As long as it includes a 3.5mm stereo plug to connect to the pillow, you'll be able to sleep in comfort accompanied by your favourite tunes.
The pillow will not emit any sound until it is connected to your device.
The cable is removable to keep the pillow tidy and safe when it's not in use.
Although you cannot machine wash the sound pillow, it can be wiped clean and air dried.
Not recommended for children under 5 years. A music source is not included. Inaudible to your partner subject to player volume selected.
Technical Specifications
Lead: 120mm with 3.5mm stereo plug
Cover: 80% cotton, 20% polyester
Size: 49cm x 30cm x 8.5/6.5cm