Most useful customer reviews
Mike
Playmuth
In car dual usb charger
1 June 2017
Mates rates
Bought this for my friends Corsa and he is delighted with it can charge iPod mobile and skat nav
Steve Masterson
Norwich
Avantree High Power 2.1A Dual USB Universal In Car Charger
22 August 2016
It Does What It Says On The Box
A small, neat car charger. It has two USB sockets which means two phones could be charged at once.
Paul Ormsby
Cornwall
Avantree dual use car charger
14 October 2015
Excellent charger
Bought to charge ipad2 whilst on sailing Holliday. Worked fine with 12v socket of yacht
84 Reviews
|
Write a review
---
Additional information
Two high powered USB sockets available to charge your iPad or other tablet
Designed to keep your mobile devices fully charged when commuting or during long car journeys, the Avantree Dual USB Charger for iPad and other tablet devices features a fast high powered 5V / 2.1A output, ensuring that even your tablet devices include sufficient battery life.
The upper port on the charger is designed specifically for charging the iPad, while the bottom port is designed for Android tablets.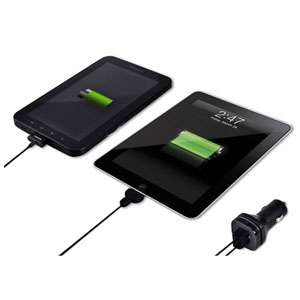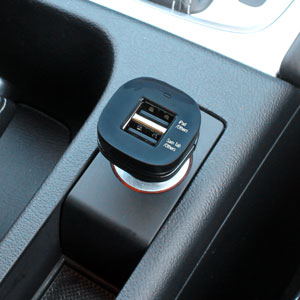 Designed to charge two devices at the same time
As well as supporting the charging of your iPad or tablet, each port can charge a smartphone or USB gadget. This allows you to maintain the charge of both your tablet and smartphone while on the road for any important business meetings or just for personal use.
2.1 Amp output for charging high power devices including the iPad
When using a single port to charge a device, this product will deliver a 2.1 amp output to charge iPads and large tablets quickly.
When using both ports together, each device will receive a 1 amp output.
LED indicator signals charging status
An LED indicator on the front face of the charger will glow red to indicate when devices are charging and once fully charged, the LED indicator will glow green to signal that the devices are ready to be used.
Small, discreet and manufactured to a high quality
The small discreet design allows you to easily swap the product between cars and it's easy to store away.
Additionally, the charger is manufactured to the highest possible quality and includes reliable over-current/over-temperature/short-circuit protection when in use.
To fully understand the benefits of fast 2.1 Amp chargers please read our in depth blog article.
Specifications:

Power: 10W
Input voltage: 12 to 24V DC
Output: 5V, total 2.1A
Dimensions: 63.5 x 31mm
Weight: 21.3g