Most useful customer reviews
Rob C
North Wales
Olixar AquaFonik Shower Speaker
10 January 2017
Therapeutic.....and it works, too.
Each time I walked into the shower room and saw her tablet on the window ledge (she's a Radio 4 Today freak) I panicked. Now her tablet is happy and dry in the bedroom, she's happy in the shower, listening and I'm happy too.. A great gadget. As described, good quality
Liam O'Donnell
Colchester
nexus 4
1 June 2014
simple to use
Bought this for my wife who loves her music. Usually just turned her phone volume up. She's not very tech minded but got it set up and going in seconds. All I've heard back is it is brilliant.... Oh and lots of dodgy singing of Beyonce and Gaga! Lol
Gareth Evans
Glasbury
Ipad
18 February 2014
How Good is this Speaker...
I ordered this as a gift for the other half. She and I are very impressed with this speaker. It fell in the bath the first time it was used and this has had no effect whatsoever. The sound quality is very good and clear and call quality is also very good. Will probably get a second for the shower.
176 Reviews
|
Write a review
---
Additional information
Enjoy a shower or bath while listening to music wirelessly via Bluetooth
Usually a shower or bath consists of listening to the rushing sound of steaming hot water, a daily routine we all slip into without much thought. Why not then ensure the whole process is far more entertaining with the Olixar AquaFonik Bluetooth Water-Resistant Speaker, a device that allows you to listen to your favourite music tracks while you shower or bathe.
Using Bluetooth technology to transmit your music, experience your own collection of music or any music subscription services you are signed up to via your smartphone - without any fuss or wires.
Compatible with any Bluetooth enabled phone.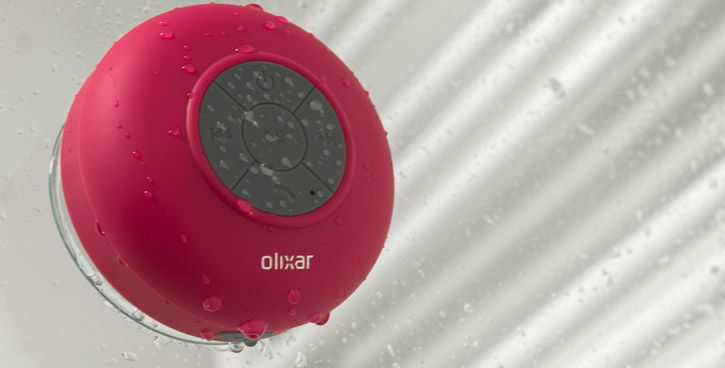 Suction cup for attaching to your bathroom or kitchen tiles
Simply attach the Olixar AquaFonik Bluetooth Water-Resistant Speaker using the incorporated suction cup, allowing you to easily attach and move the device whenever you wish.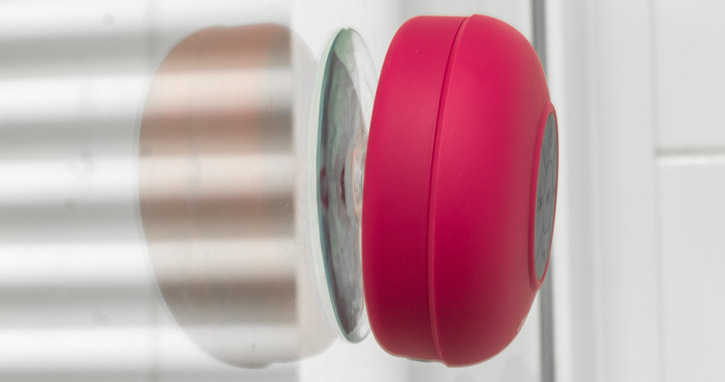 Not just for showers, also ideal for kitchens and placing on desks
You can also use the Olixar Aquafonik Bluetooth speaker in other locations around your home or workplace. Ideal for use in the kitchen, especially when you are cooking or how about on your desk to take calls hands-free while you continue to work. The Olixar Aquafonik is one versatile speaker!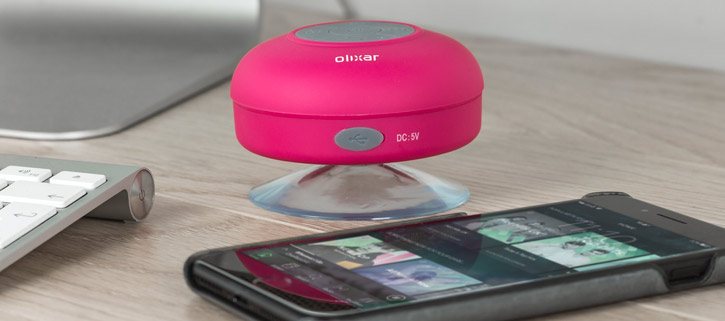 Incorporated playback controls
Featuring a soft rubber finish to ensure a comfortable feeling when operating the playback controls.
With buttons to answer, hang-up and re-dial phone calls - volume up and down as well as next and previous track options.
Note: The volume can be adjusted by holding down either the previous track or next track buttons to either lower or raise the volume of the audio / music.
LED lights are also incorporated to offer information on Bluetooth pairing.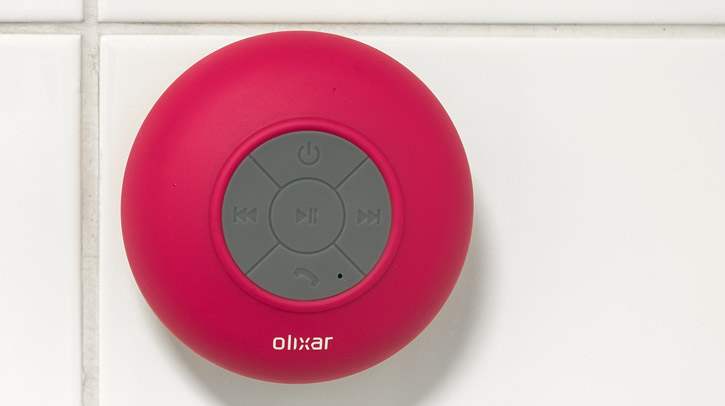 Make and receive phone calls with the built-in microphone
You may believe that taking a phone call in the shower, bath or any moist environment is the last thing you would wish to do, however how many times have we all been caught out! You prepare to step into the shower, all is quiet just the soothing sound of rushing water - you position yourself under the showerhead and just at that moment when the first drop of water touches your hair... The phone rings!
Never be caught out again with the Olixar AquaFonik Bluetooth Water-Resistant Speaker, that allows you to make and receive calls all while in the shower with its built-in highly sensitive microphone.
Using a compatible iOS device, you can also trigger Siri through the speaker and issue phone commands.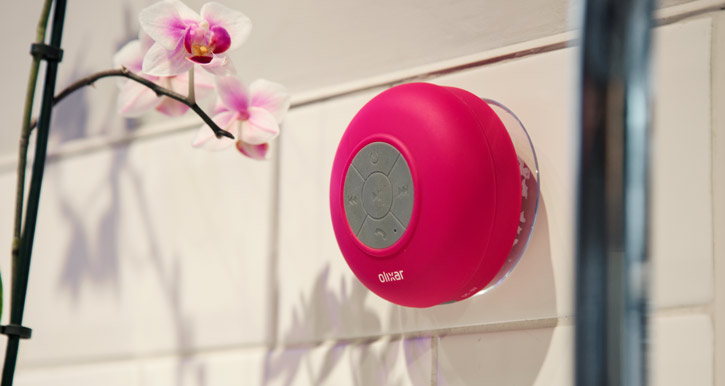 6 hours music playback
With an impressive 6 hours of music playback time, you can be assured your musical showering experience is uninterrupted for many weeks to come.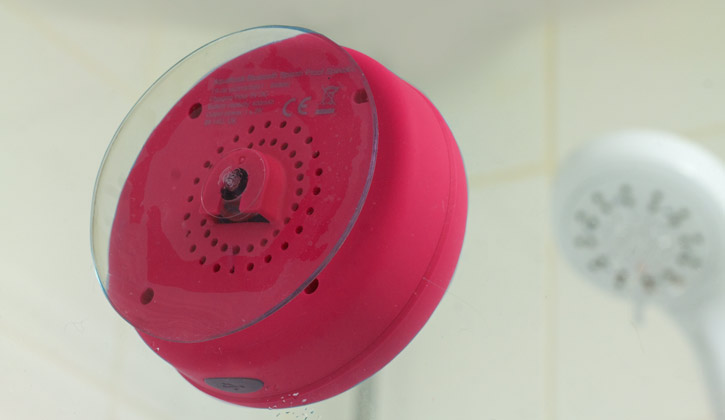 Technical Specifications
Sound power output: 3W
Playback time: up to 6 hours
Power supply: Rechargeable via USB Cable (included)