Additional information
SuperTooth, pioneer of the user-friendly Bluetooth speaker phone concept for car sun visors introduces the Crystal.
Compatible with all Bluetooth phones
Compatible with all Bluetooth handsets and fits in any car, you can be sure to stay safe on the roads with the SuperTooth Crystal Bluetooth Visor Car Kit.
With the mounting accessories included, the SuperTooth Crystal can be easily placed on your vehicle's sun visor.
On iPhones, the Crystal will display the battery level remaining on the screen and will also stream music directly from all Bluetooth A2DP-enabled phones as well as announcing turn-by-turn navigation from a Bluetooth A2DP-enabled Smartphone.
You can also use the Crystal as a table-top hands-free device whether at home or in the office.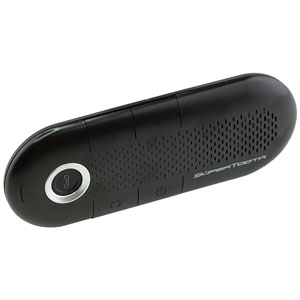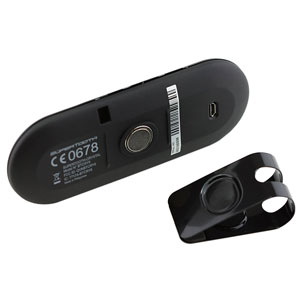 No installation required
The SuperTooth Crystal is extremely easy to use, with its magnetic clip the Crystal quickly attaches to your vehicle's sun visor for easy access.
Charging is also simple thanks to the handy USB cable charger provided.
Multipoint technology
Pair 2 devices to the SuperTooth Crystal at the same time, managing calls from each phone thanks to the inclusion of multipoint technology.
If you have a business and a personal phone, you no longer have to worry about missing calls on either while you're driving.
20 hours of talk time and 1000 hours of standby time
The SuperTooth Crystal boasts an impressive 1000 hours of standby time.
As if that wasn't enough - the Crystal also has the capability of 20 hours talk time too, meaning your SuperTooth Crystal will keep going as long as you do.
Lightweight and compact
The SuperTooth Crystal Bluetooth Hands-free Visor Car Kit is a portable, lightweight, mini-sized hands-free device with an elegant design.
Provides a clean wireless audio connection with your Bluetooth mobile phone.
The sleek finish results in an almost unnoticeable device while you're driving, helping you to stay safe on the roads and free of distraction.
Full auto pairing
The Crystal by SuperTooth is as intelligent as it is attractive, due to its auto connect function.
Leave the device switched on when you leave your vehicle and when you return a short time later, the SuperTooth Crystal will instantly recognise and reconnect to your mobile as soon as you open your car door.
Crystal clear sound quality
Crystal's soft supple microphone covering and powerful speaker ensure top notch sound quality, as voices are both heard and transmitted more clearly.