Most useful customer reviews
Peter Garvin
Rossendale
Htc one m9
6 December 2015
Nothing comes close to the quality of this one
I have tried many screen protectors over the past 5 years but nothing comes close to the quality of this one also the easiest one to fit I've ever used , more expensive than some but the best I've seen
16 November 2015
At last, the ultimate screen protector....
Of all of the screen protectors that I have put on over 12+ years, this was the easiest. Being glass, it resists scratches and somehow resists smearing and fingerprints. Only issue to note, is a very slight ridge around the edges. Not a problem though, and doesn't snag the case. I will be using these for the family's phones too..
Steve Jones
Unknown
HTC One M9
22 August 2015
Good Product
Decided to try a tempered glass screen protector after being disappointed with cheap, plastic protectors. The product that arrived wasn't an Olixir product but had the same specs so was presumably a substituted item of the same quality. Cleaned the screen with the provided wipe - nice to have the addition of an adhesive sticker to remove any remaining dust or fibres which I didn't need - lined up the protector and let it slowly fall into place. Zero particles under it, zero bubbles and looks great. Much easier to clean greasy finger marks from than a plastic protector. Very pleased.
10 Reviews
|
Write a review
---
Additional information
High-tension 9H tempered glass construction for enhanced shock protection
The Olixar Tempered Glass Screen Protector is made from chemically reinforced glass with a 9H hardness that maintains perfect image clarity while protecting your phone's screen from scratches and external shock. Thanks to the anti-shatter film, excessive impacts may cause the glass to crack, but it will not shatter and so is safer to use than other glass products.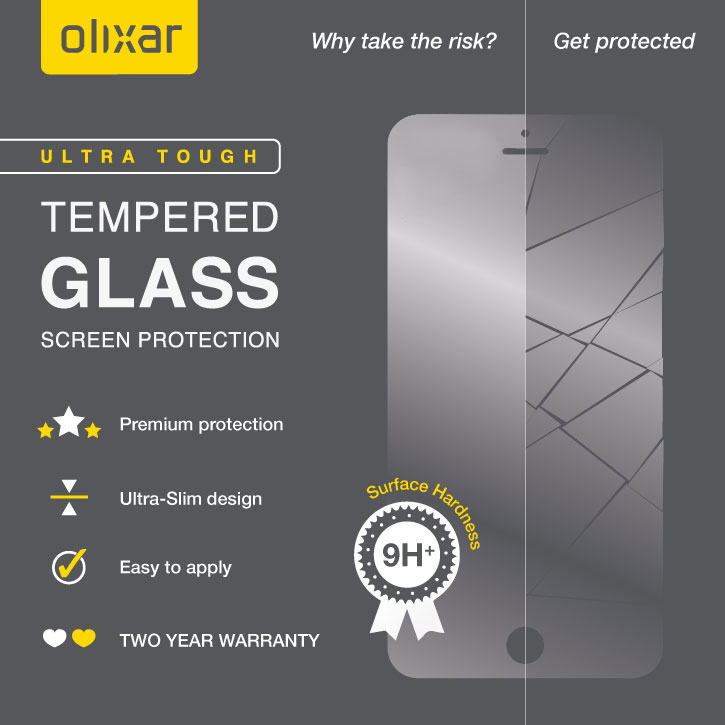 Ultra clear protector with a 95% light penetration ratio
The Olixar Tempered Glass HTC One M9 Screen Protector won't diminish the sharpness or brightness of your phones display.
This glass screen protector is ultra clear and has a 95% light penetration ratio, compared to plastic screen protectors that generally have an 80% light penetration ratio.
0.26mm thickness adds minimal bulk to your phone
Despite being the ultimate in screen protection for your HTC One M9, the Olixar Tempered Glass Series is only 0.26mm thick. This means it only adds an almost imperceptible amount of extra thickness to your phone, so you can be sure it is safe from harm while looking as good as new.
Easy installation with no risk of bubbles
As this is a tempered glass screen protector and not a film it does not bubble at all on application. In addition, the coating allows for easy removal should the protector get damaged.
Made for HTC One M9
Designed specifically for the HTC One M9, the Olixar Tempered Glass Screen Protector offers a perfect fit for your device. It features cut-outs for the camera, sensors, speaker and button, with transparent sections for the capacitive buttons so you can still see when they are lit.