Most useful customer reviews
Ian Brown
Aberdeen
iPhone 6
5 June 2017
Great bit of kit
This magnetic mount is first class. I have an iPhone 6 within a leather case full of various cards, the strong magnet holds the phone instantly and it never moves which is great for hands free and using as sat nav
Matej
Unknown
Samsung s7 edge
29 April 2016
Best magnetic holder ever
Before i bought this i owned tetrax magnetic holder but its too tiny so it harder to mount the phone without watching. And it has realy anoying button that doesnt alow any phone cover after you stick it on your phone. This spigen is big and strong and you dont even need to stick magnetic pad on your phone. Realy beast magnetic holder ever.
4 Reviews
|
Write a review
---
Additional information

Attaches to all types of car air vent for a simple and quick installation
The Spigen Magnetic Air Vent Mount features a four way clip, allowing you to mount onto vertical and horizontal vent blades. The Vent 2's simple, yet highly functional design works by slotting onto one of your vent blades thus removing the need for any suction cups, adhesives or special cases - which can be tiresome to fit and cause damage to your car's interior.

Universal design compatible with all smartphones
The Magnetic Air Vent Mount's cradle-free design allows for complete universal compatibility. This allows any smartphone, no matter how big or small, to work with this car holder. So, even if you upgrade or have multiple phones, you can dock effortlessly without the need to adjust the car holder itself every time.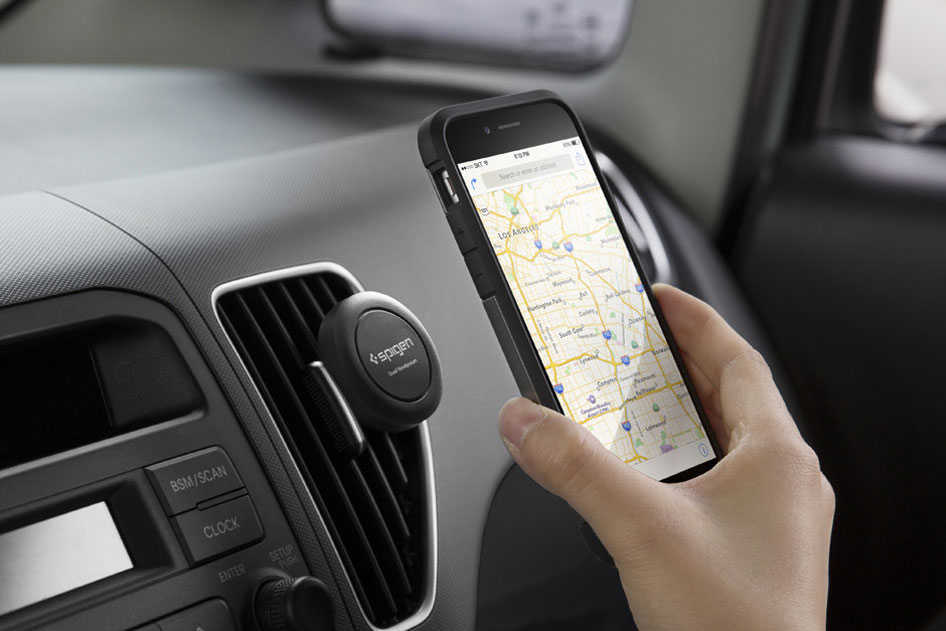 Effortless, fast docking with one hand
The simple design means attaching and removing your phone is a very quick and easy process. The Spigen Universal Magentic Air Vent Mount has been designed so that with just one hand you can easily attach and remove your phone. Within a second, you can be ready to drive or get out of your car.
Slim Case compatible design
The Magnetic Air Vent Mount's design not only allows for quick and hassle-free docking, it also allows you to leave your case on. Providing you have a slim case attached to your phone, you will still be able to dock your phone.
Car holder and desk stand
Due to the Magnetic Air Vent Mount's compact and lightweight design it can also be used as a desk stand and used in various locations, either at home, in the office or in the car.

360° rotation for a comfortable viewing angle
With the Air Vent Mount's strong magnetic attraction holding your device in place, you can position your device at any angle you find comfortable.

Metal plates provided
Two metal plates (rectangular and circular) are provided with the Magnetic Air Vent Mount allowing you to either stick the metal plate directly onto the back of your case or phone. Alternatively they can be stuck in-between a 2-piece case.