Most useful customer reviews
Joan slater
Wales
Samsung glassy 7edge
26 May 2017
A good little gadget.
Good place to buy all you need for your devises. And prompt delivery.
David Crookshanks
Northern Ireland
Motorola G4 plus
3 April 2017
Finger Ring
Excellent finger ring for your mobile ..Can highly recommend this product .. very easy to fit . Very secure ..5 star all the way ..
Normie99
Windsor
Olixar Smart Loop
18 March 2017
Invaluable
Thought I'd use this in the car but, having fitted it, i use it whenever i use the phone. As a stand, as a hook, for stability etc. It means holding a large phone one handed is now completely secure. The ring adds a little thickness but not much. More have been bought for the rest of the family.
24 Reviews
|
Write a review
---
Additional information
One ring to rule them all
When it comes to and all-in-one smartphone mounting solution, the Olixar Smart Loop might just be the lord of the rings. A fully case-compatible folding ring stand that you can either slip your finger through to allow a safer hold of your device, mount on your vehicle's dashboard, hook it onto a car headrest for you or a passenger to view or dock in into the included stable adhesive desk stand, or even just use the Smart Loop itself as a desk stand, you have pretty much all angles covered. The Smart Loop Kit really is one ring to rule them all. Simply apply to the rear of your phone or case using the reusable sticky pad and you have a fantastic modular system for mounting, carrying and using your phone in many situations.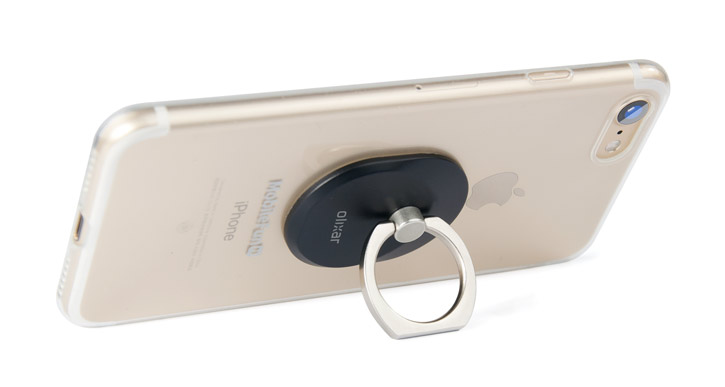 Use as a finger loop for extra protection - in more ways than one
The Smart Loop can be used in many ingenious ways. The ring loop is relatively flat at 3mm and can be folded out of view if you do not want or need it. But if you do, simply pull the loop out, slip your finger through and you have an extra secure grip on your phone. This is not only important in the sense that you will not drop your phone under any circumstances, but also in the sense that your valuable and precious smartphone cannot be snatched from your hand. So, security against damage and security against theft - that's the beauty of the Smart Loop. The other benefit of using the Smart Loop in this way is that it allows fuller access to your phone's screen. By not having to hold your phone so tightly, you can extend your thumb across more of the screen area.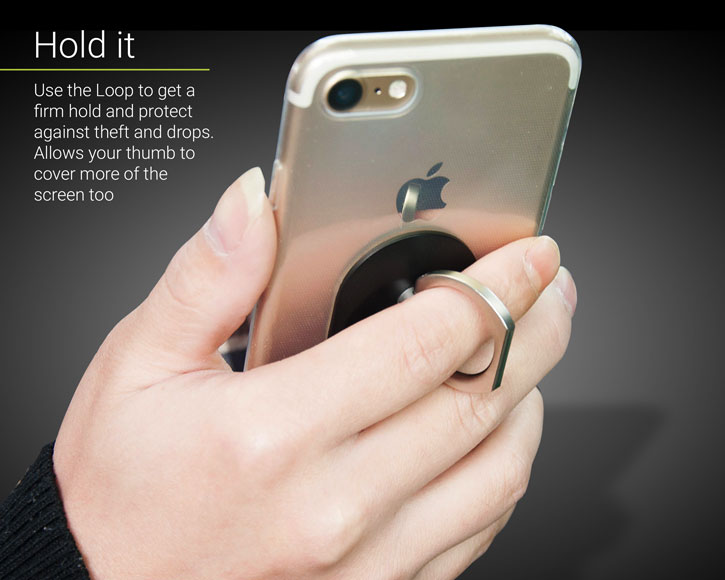 Use as a quick media viewing stand
Featuring an innovative folding design, the Smart Loop can be effortlessly transformed from its flat, portable form on the back of your phone or phone case to a handy smartphone stand in seconds. The portable design is perfect for commuting, allowing you to quickly pack away when needed and easily set up when ready. But even if you're not somebody on the move, this stand is ideal, providing a sturdy hold which is perfect for watching movies, reading eBooks, following recipes, surfing the web, conducting presentations, viewing photos or anything else you can think of. After a simple adjustment, you can alter the angle of how your smartphone is held so it is more comfortable for typing. This makes it perfect for using at home, in the office or on public transport.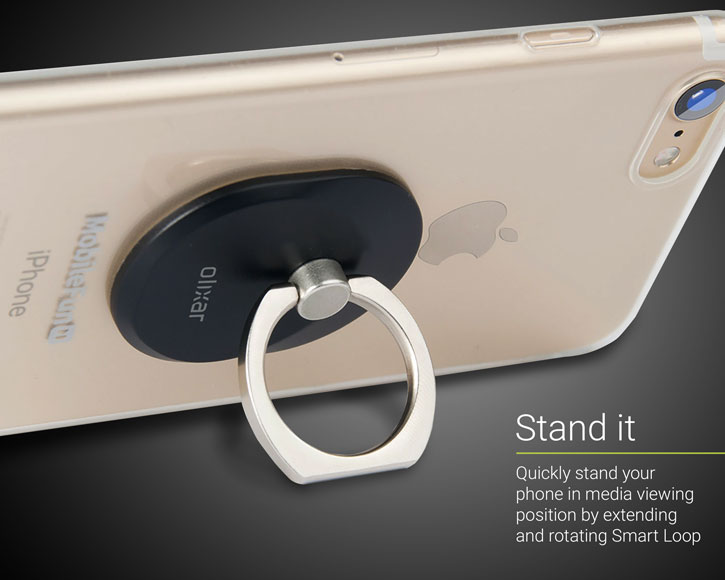 Use as a dashboard mount
There is an adhesive hook in the kit that you can easily apply to any vehicle's dashboard. Thereafter, you can dock your Smart Loop-fitted phone onto the hook in seconds. This gives you an ever reliable dashboard mount that requires virtually no set up time. The Smart Loop has a fully rotating posable joint that can rotate and tilt in any direction and is strong enough to hold it in place. This is perfect to get the right view when driving. You can also use the adhesive docking base as a dashboard mount too. This gives you a more posable option that is raised off the dashboard.
Use as a headrest mount
O.K, so what if you're the passenger, or what if you want to keep a passenger entertained or connected? Perhaps a child on a long journey? Not only does the kit come with a dashboard mount, but also a headrest mount too. Simply hook the headrest mount around one of the pillars and you have another hook you can quickly and easily place your Smart Loop onto. This will give any rear passengers a good view of your phone without having to touch it.
Use as a desk mount
Last, but by no means least, you have a sturdy desk mount. This features an adhesive base you can use to secure it to a desk or table if you choose to, or simply leave it free. The base features a form fitting slot that your Smart Loop can easily slide into to, giving you a fully posable desk stand. This differs from just using the Smart Loop as a media stand by keeping it raised off the desk. As it is fully rotating, you can switch between portrait and landscape instantly. The beauty of all of these options is that once you have fitted your Smart Loop you can switch between all of the options available in the kit easily.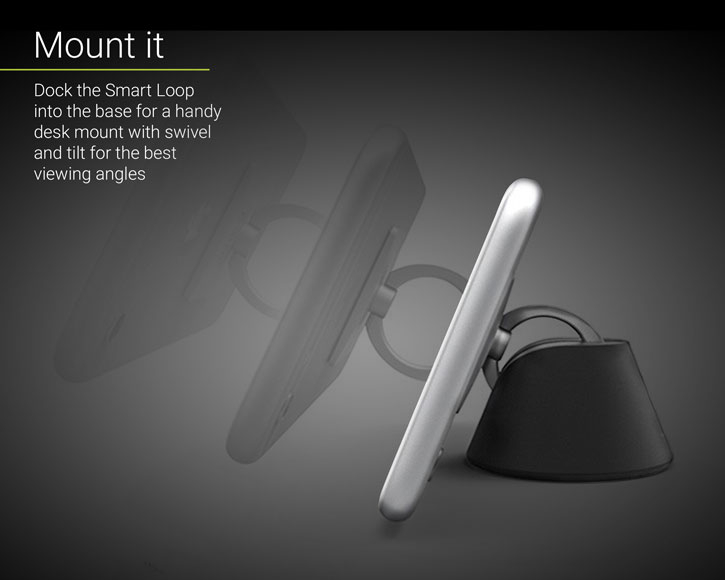 Fully case compatible
With the Smart Loop, you don't need to remove your device from its case to use this fantastically useful kit, no matter how big or bulky it is! It will work just as well in its case, saving valuable time without you having to compromise on protection. All you need is a flat 45 x 35mm area and it will apply to any case with ease.