Most useful customer reviews
7 May 2017
Good solid case with a great stand for watching videos
Good solid case with a great stand for watching videos and a great little secure card holder. Overall is a awesome product.
Mihail Iulian Secuiu
London
Samsung Galaxy S8 +
5 May 2017
Sturdy, good fit, nice and slim-light case.
Material that is made off
John Grainger
Unknown
Samsung S.8 Plus
30 April 2017
Does what it says on the box
I was concerned about the fit, as it is I need not have been concerned, it fits perfectly and shows no sloppiness at all. Its made of a high impact material and gives the lens area good protection, I am impressed with how it performed over the last fortnight whilst I was doing extensive travelling round France and Italy on a coach trip with all the rough handling that involves.
11 Reviews
|
Write a review
---
Additional information
Rugged all round protection for your Galaxy S8 Plus
Featuring a robust multi-layered design, the Olixar XTrex provides excellent protection for your Galaxy S8 Plus and just might be the best all-round travel case available. This hard-wearing tough case safe-guards your phone against whatever life can throw at it, keeping it secure at all times - even in the most extreme of conditions. With rubberised non-slip bumper pads, textured surfaces for extra grip, a secure card compartment and a handy flip out kickstand, few other cases come close to the protection and features on offer here. The XTrex is suitable for commuting, outdoor travel and everyday use in equal measure.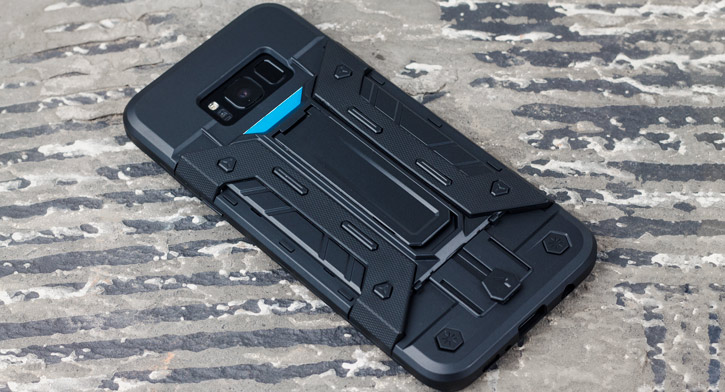 Enhanced drop protection
First and foremost, the XTrex is designed to protect the Samsung Galaxy S8 Plus and protect it does, with some aplomb. Composite layers of shock-absorbing thermopolyurethane and ultra-resistant reinforced polycarbonate take all the punishment your daily travel and use can throw at your phone, including drop protection. The front facing lip is raised above the level of the screen, meaning it will keep your screen off flat surfaces so it doesn't get scuffed or dirty. Reinforced corners are designed to deflect shock force away from your phone and the corners are the most vulnerable areas of any phone or case. Likewise, the phone's vulnerable buttons are catered for with generous and fully functional covers.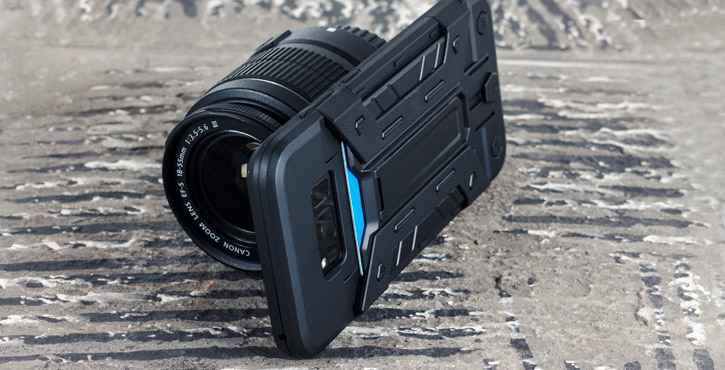 Secure quick access compartment for card storage
The Olixar XTrex case features an ingenious back compartment that can hold up to 2 credit cards or IDs. This is a secure and ingenious way of storing your most vital cards and also means you can leave your wallet at home if you want to.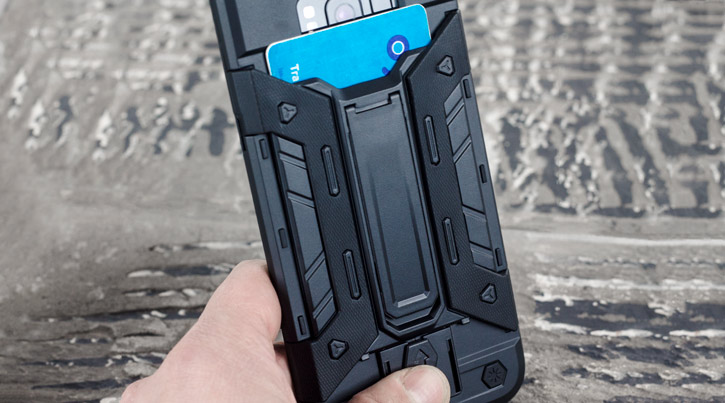 Built-in kickstand
Located at the back of the case is a super-convenient flip-out kickstand. Folding completely flat when not in use, the kickstand can be called upon at will, allowing you to effortlessly watch media at any time and in any place in both landscape and portrait. It's stable enough to use anywhere.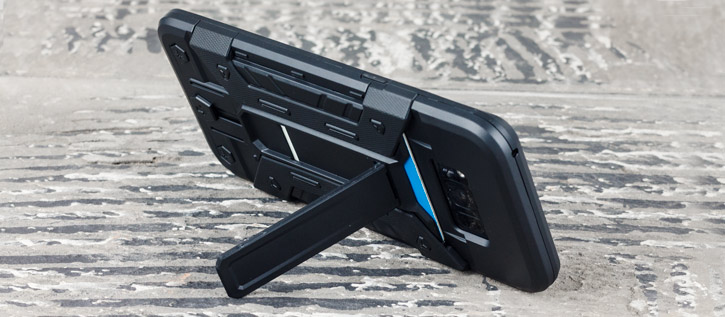 Stylish militarised industrial look
The sleek military styling and slimline construction of the XTrex case combines to create a case that perfectly compliments the Galaxy S8 Plus's stunning design. With it's dual material design, tough talking rugged aesthetics and angular detailing and clean lines, the XTrex is very much a case for modern times and all situations.
Access to all ports and features
With full access to all of the Galaxy S8 Plus's ports and features, the Olixar XTrex Case allows you to use your phone as you would normally, but with the added peace of mind that this highly protective case.