Additional information
High surface hardness provides excellent resistance to scratches and scrapes
Spigen Crystal screen protectors are rated at a surface hardness of 3H, which offers an exceptional protection against scratches and scrapes without impeding any of your mobile phone's functions or features.
4 layered screen protector
These Spigen Crystal Screen Protectors for iPhone 8 / 7 are made of 4 different layers, which combined provide a superior hard, fingerprint resistant and ultra clear screen protection.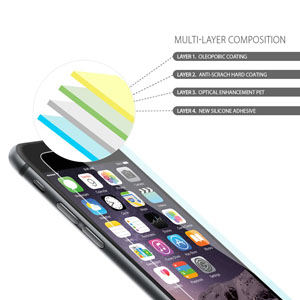 Comes with 3 screen protectors in the pack
This Spigen Crystal screen protector pack for the Apple iPhone 8 / 7 contains three screen protectors in each pack, so you can protect multiple devices at the same at a really low cost. If you have just one iPhone 8 / 7, just keep them as spares and replace if/once needed!
Easy to apply and remove without residue
Manufactured using a premium silicone adhesive, Spigen Crystal screen protectors are easy to apply and remove. You no longer have to spend hours installing it, meaning you can be up and running in no time!
Custom cut for the iPhone 8 / 7
This screen protector has been custom made for the iPhone 8 / 7, so you can be sure of a perfect, almost invisible fit. Spigen also uses a special silicone glue in their manufacturing process, which does not damage your screen, results in fewer air bubbles and leaves no sticky residue on removal.