Additional information
Designed for connection to microUSB, USB-C and other devices
With an ever-growing number of devices that we have at our offices and homes, we have no other option but using a variety of chargers and cables to make sure they are fully charged and ready to be used at our command. 4smarts GRAVITYCord aims to simplify both the charging and data transfer processes by featuring a magnetic cable tip, which allows you to quickly change and replace the connector tips, making the cable suitable for using with an array of devices. For instance, you can use an included USB-C connector to charge your OnePlus 5T device, whilst the microUSB tip (also included) will be perfect for charging a Samsung device or your camera. Additional tip connectors (i.e. Apple Lightning) are available to be purchased separately.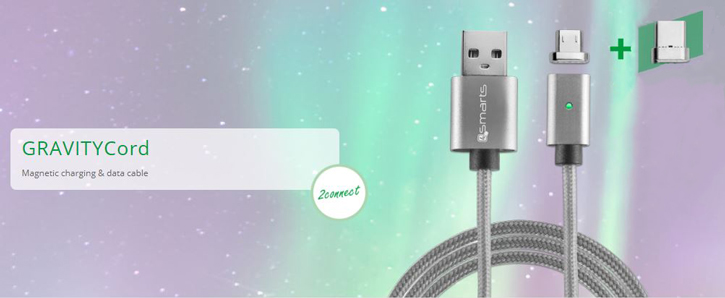 Magnetic connector - stays in your phone, just attach the cable
This futuristic-looking and ingenious cable features interchangeable charging port tips which can be easily detached from the cable. Because of this, you can comfortably leave the connector in your phone's charging port, attaching the cable when you need to charge or sync the data, then detaching when you're done.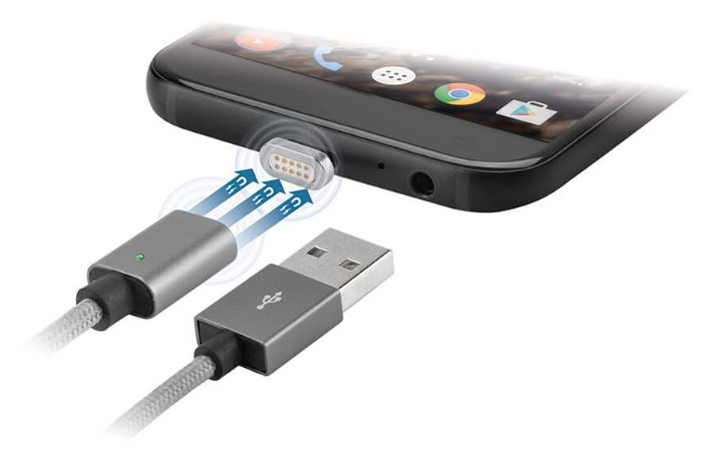 Perfect for charging and data syncing
This cable is a perfect substitute or a replacement for your standard manufacturer-supplied USB cable. The interchangeable tips give you more flexibility, whilst allowing you to charge and sync the data with your device simultaneously.
Durable cotton braided cable for increased comfort and tangle resistance
There is nothing worse than an impossibly tangled cable, especially, when you need a charge in a hurry. This cable's braided cotton design is much more resistant to tangles, minimizing the hassle and increasing the durability whilst using the cable. The braided cotton jacket also prevents damage to the internal parts, prolonging the life your cable.
Reversible design minimises fuss
In order to make the most out of this gadget, we suggest keeping the connector tip in your phone all the time, and attaching the rest of the cable, once you need a charge. This will save you time, because the rest of the cable is reversible and can be plugged into charge in both directions. This is a life-saver in poorly-lit environments.
Multi-coloured LED for operating status
The built-in LED light not only provides operating status, but can also be used as a notification on the charging process (i.e. battery being charged). It will also make it easier for you to find the cable at night.
Specifications
Length: 1m
USB: 2.0
Connectivity (included): Magnetic (removable) tips - USB-C / microUSB
Connectivity (not included): Magnetic (removable) tips - Apple Lightning Connector