Additional information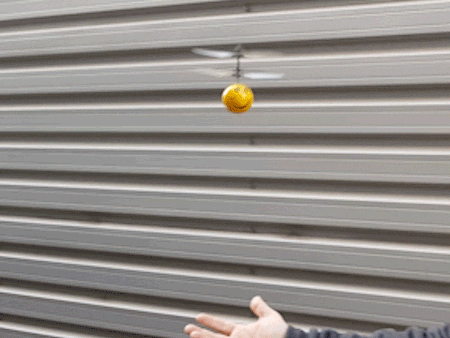 A smile goes a long way - Emoji
They say a smile goes a long way and yes, that is a lame pun for what is coming next because as you may have guessed - this smiling emoji face can fly - and how! We'll talk about how it flies soon but what you basically have here is a fantastic gadget that flies on its own, features a ridiculously popular emoji face that is all the rage at the moment, is easy to use and operate and is great fun for all ages (5+). It might just be the perfect gift.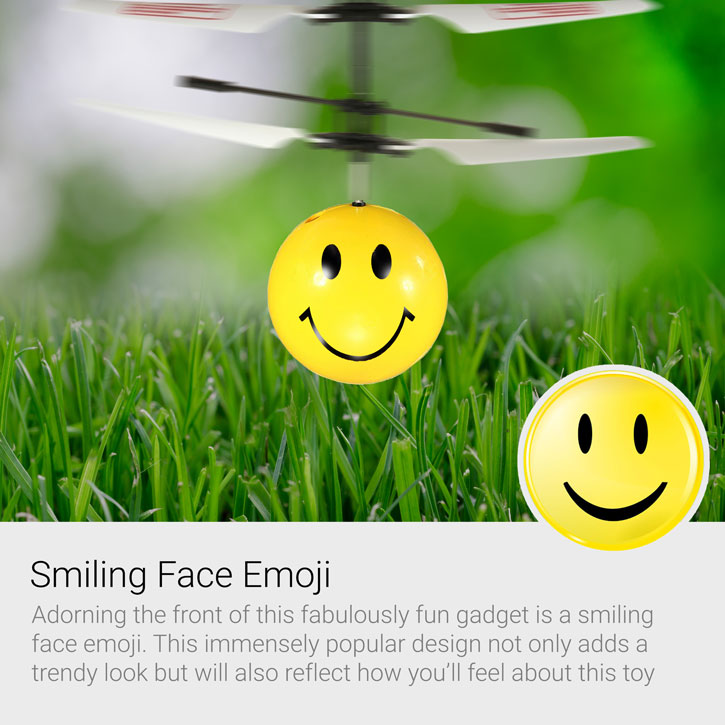 Infrared sensors - auto flight and hand gesture control
The genius of the Flying Emoji is that it features infrared sensors that detect when it is going to land and increase power to take it airborne again. This means that, as long as it has power, it will stay airborne. It doesn't have to be the ground that is detected - by gesturing underneath the sensor you can make it respond to your hand, making it seem like you have Jedi-like powers as the Emoji climbs back into the air instead of landing in your hand. That's pretty cool. Should the Emoji land hard, don't worry, it can take it. Most likely it will flash red and that will mean it needs to be turned off and on again. Then it's good to good to go once more.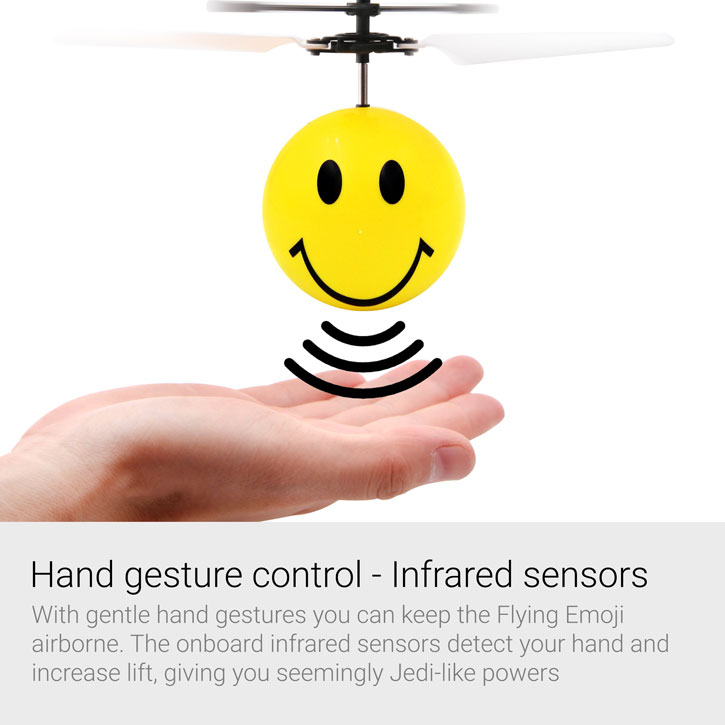 Contra-rotating rotor blades for stable flight
We won't bore you with aeronautics but basically, when you have two equal rotor blades that rotate in opposite directions, it provides stable flight conditions and that's good news because you don't want something like this tipping over and crashing every few seconds.
Suitable for indoors and outdoors
Your potential for playtime is not limited to indoors or outdoors. As long as the weather isn't terrible and/or windy, there's no reason that you can't take the Emoji outside. Just be aware that this is a flying gadget and you need to consider your environment. We wouldn't you getting stuck on next doors roof or scaring the neighbour's cat half to death. Responsible and supervised use is advised. This isn't dangerous as such, but just bear in mind it is not controlled flight. That said, just have fun, stay safe and consider your immediate surroundings. There's very little weight in the Emoji but is it enough to topple a priceless vase? Is there a baby or pet around (it could damage eyes for instance)? If it goes over a fence can you retrieve it? Who / what will it affect?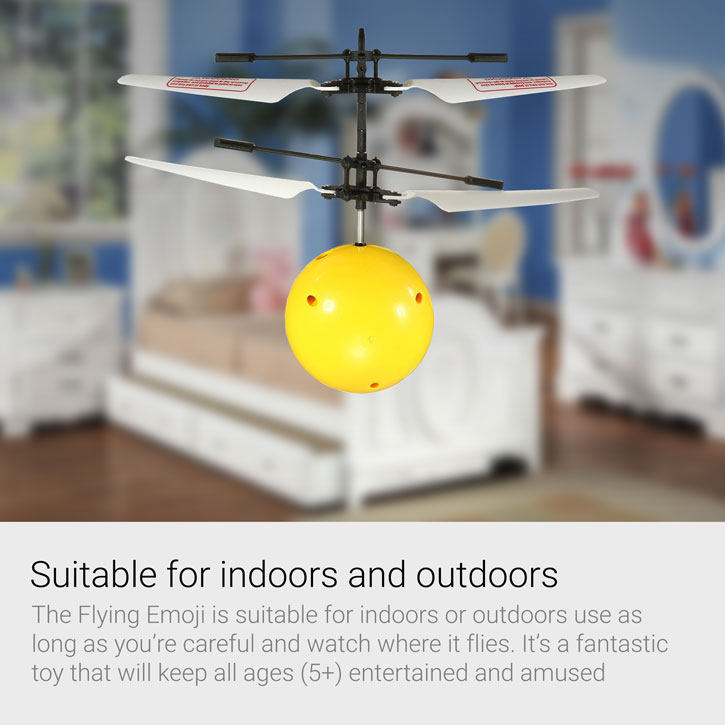 Glows / flashes in the dark
There's a flashing red light inside when the Emoji is in use. In daylight you will hardly notice but in the darkness you certainly will and the effect is fabulous. The light will also tell you when it's on charge (green) or when it needs resetting (again, red). But this makes a fun toy even more entertaining.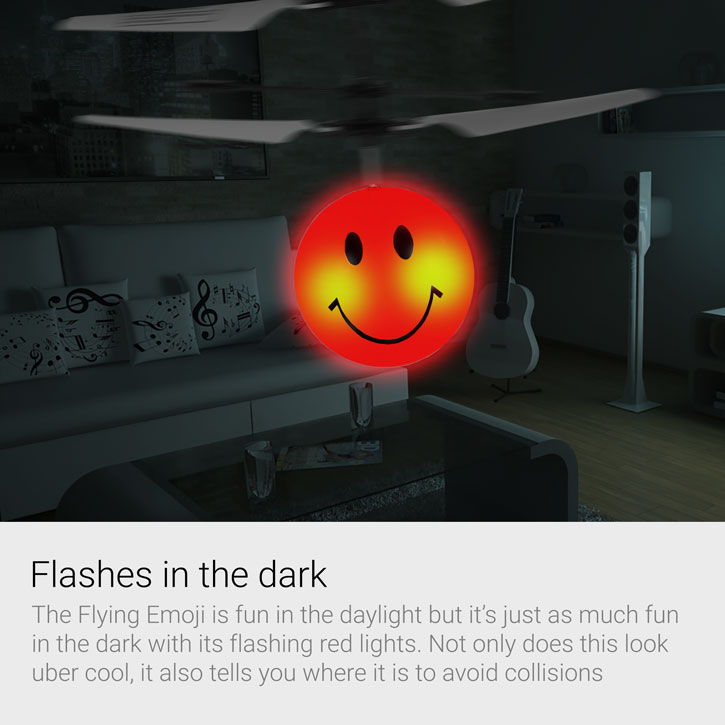 Rechargeable lithium-polymer battery
With lightweight devices like this you often get a very small battery that discharges before you can blink. Its just ar for the course. However, the 3.7V 80mAh battery here allows for 10 minutes of use with only 20-25 minutes recharging time required to completely top it up so you're ready to go again. That's more than decent. For extra convenience a USB charging cable is included. All you need to do is plug it into a PC or USB mains charger and you're good to recharge.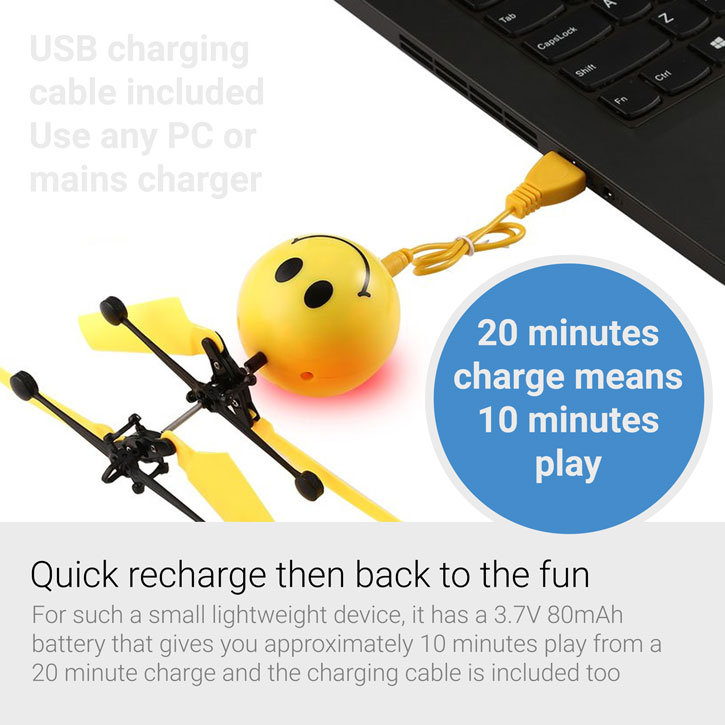 Suitable for ages 5+
Please note, this mini copter should not be used by those 5 and under. We recommend that children older than that are supervised at your own discretion.
Dimensions (including rotor span) 20 x 16 x 6cm

Tips on use:
Be gentle with you hand movements. The sensor will detect your hand moving towards it and increase power significantly to compensate. This will result in a fast climb.
The Emoji may climb to the ceiling and stay there for a moment or two. Just be patient and it will descend.
If there is an impact that stops rotor movement, it may cause it to go into lock mode. Just turn the power off and then on again a second or two later. It should reset the Emoji.
Be aware of where the Emoji may fly before using.
You will need to grab the Emoji before it sense your hands to collect it. This takes some practice but is good fun to master. Otherwise flight will cease when the power level gets low.
When using outside - large open spaces is ideal