Additional information
Premium slimline iOS & macOS keyboard
Not everyone is a wizard with their iPhone or iPad's virtual keyboard. When you need a physical typing experience, only a physical QWERTY keyboard will do, and you need something that doesn't take up too much space. Enter the Kanex MultiSync. Sporting a premium build and boasting a rich, tactile physical typing experience, the MultiSync is the only keyboard you'll need on business trips, holidays or just for blogging in the comfort of your own home.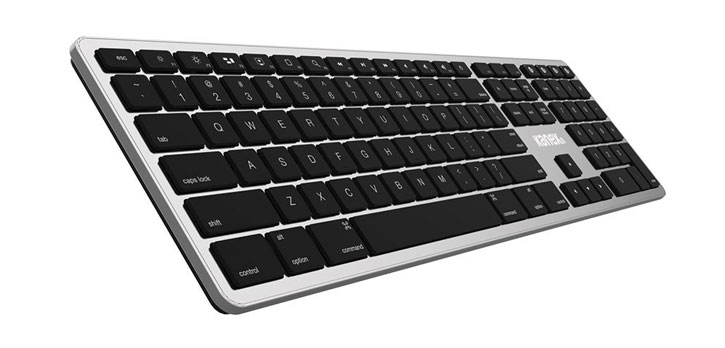 Tactile keys with superior travel
Typing on the MultiSync is a satisfying, ergonomic experience thanks to well-built keys with slightly rounded corners, along with a shape designed to fit the contours of the human hand. Key travel is just right - you'll feel each click of the keys, but you won't need to push hard to type.

Backlit keys for low light environments
See exactly what you're typing at all times with the MultiSync's backlit keys. Bright yet free of eye strain, the backlight on the MultiSync will enable you to type in even the darkest environment - perfect for night owls and those last-minute all-nighter rushes.

Built-in iOS and macOS shortcuts
If you're used to having all your Mac, iPhone and iPad shortcuts handy, don't worry - the Kanex MultiSync features all the standard Mac & iOS shortcuts built in to the keyboard itself, so you can continue to adjust brightness, control playback and more with just the touch of a key.
Quick, easy setup
Thanks to Bluetooth technology and expert engineering, setting up the MultiSync with your device couldn't be simpler. Simply find the keyboard in your device's Bluetooth menu and follow the pairing instructions on screen.
Connect up to 4 devices simultaneously
Need to switch between several devices on the fly? Maybe you're storing important work on different devices and need to access and edit files quickly on each one. The feature that gives MultiSync its name allows you to connect the keyboard to up to 4 devices simultaneously, so when you need to switch, simply press the corresponding key on the keyboard and hey presto - you're connected to a different device.
Robust yet lightweight high-grade construction
You'll never need to worry about your MultiSync being damaged in a backpack, or sustaining damage in transit. That's because of a superior sturdy build which emphasises hardy resilience.
Fully rechargeable with 6 months' typing time
The battery included in the MultiSync provides up to 6 months' typing time on a full charge, so you can forget about the battery while you work on your project. When the keyboard eventually does run down, simply connect the included cable to a powered USB source and within no time at all, you'll be ready to go again.