Additional information
Provides in-car wireless charging for your Samsung Galaxy S9
Designed for quick and intuitive charging, this Samsung Galaxy S9 Qi Wireless Charging Car Holder and Charger allows you to charge your Qi-compatible Samsung Galaxy S9 without the mess of charging cables. The car holder uses Qi induction technology to charge your phone quickly and easily once it is placed into the holder.
Simply place your Samsung Galaxy S9 within the holder and watch as it begins charging without having to connect any wires to the phone.

Supports landscape and portrait orientations
The adjustable design of this car holder allows you to position your handset on your car's windscreen in either vertical or horizontal positions for a more comfortable view of your handset while driving.

Dock quickly with just one hand
With an intuitive design, the Wireless Charging Car Vent Holder makes attaching and removing your phone a quick and easy process. The Wireless Charging Car Vent Holder has been designed so that with just one hand you can easily attach and remove your phone.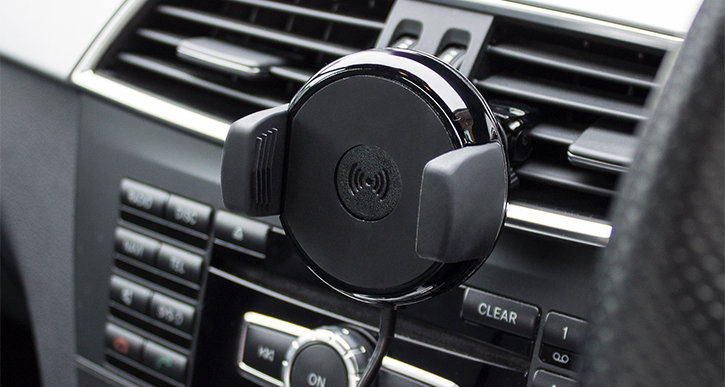 Sleek and minimalistic design to match your handset
Designed to perfectly complement your Samsung Galaxy S9, this car holder is designed to reflect the contemporary and sleek styling of your Galaxy S9.